What is Store Management System?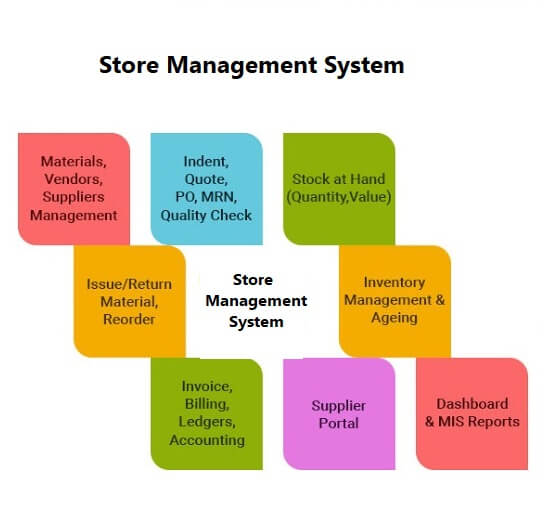 Store management system (inventory system) is used to track goods from the point of purchase through production and sales. It monitors inventory via purchase, production, orders, sales & deliveries. 
Key Features of store management system
Real time inventory tracking 
Maintaining the records of purchase
Supply and issuing Management. 
PO Management.
Alert & Warning of Re-Order Stock / Products.
Reminders of Job Work Product.
L1 comparison of product rates.
Contractor wise issue registers.
It shows the last 10 purchase rate of specific product according to supplier at the time of purchase entry.
Pin-Point tracking of frequent issue of products.
Machine wise issue register.
Reason wise issue register.
Option of exporting data to Ms-Excel, Ms-Word, Pdf file.
Graphical analysis of consume products.
Admin / User Permission – Privileges.
Industrial Store Management System
Financial year wise data management.
Creation of Masters i.e. Supplier, Product, Make, Size, Type, Reason, Machine, Contractor…
Creation of Indent, Enquiry, Quotation, Purchase Order, Purchase / GRN, Issue, Gate Pass.
Job work entry module.
Payment entry module (payment to supplier).
Easy Reporting Module.